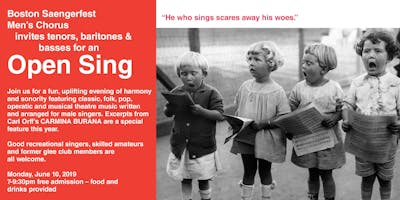 Buy Tickets
The Boston Saengerfest Men's Chorus invites you to join us for a fun, uplifting evening of harmony and sonority featuring…
Latest Event Updates
Composer Lewis Spratlan talked about his original composition "New England Concordance" in an interview with Derek Perkins HERE. Listen in!

Weston, MA – On February 29, 2016, An excellent workshop on Vocal Health was presented by laryngologist Dr. Thomas Carroll and speech pathologist Chandler Thompson DMA, MS, CCC-SLP of the Brigham & Women's Hospital Voice Program. The program provides coordinated care and innovative voice therapies for patients with all types of voice and laryngeal disorders.
And because both presenters love to sing, they provided some valuable insights to singers and guests who attended!
This vocal workshop was sponsored by The Boston Saengerfest Men's Chorus,
First Parish Church, 349 Boston Post Road, Weston, MA
Click here to see all the details about the workshop, including tips and techniques!
The Boston Saengerfest Men's Chorus is pleased to announce the appointment of Brendon Shapiro as Assistant Director of the Chorus. Brendon will continue in his current role as pianist and will additionally regularly assist Music Director, Tom Berryman in rehearsing, leading sectionals and conducting the Chorus.
Brendon has served as pianist for the Boston Saengerfest Men's Chorus for four years. He is a staff pianist at Boston University and organist for First Parish in Arlington, MA. He is also a vocal coach on the faculty of the Boston University Tanglewood Institute. Brendon holds a Master of Music degree in Collaborative Piano Performance from Boston University and a Bachelor of Music degree from the Ithaca College School of Music.
Enrico Caruso once said, "[A great singer needs] a big chest, a big mouth, 90 percent memory, 10 percent intelligence, lots of hard work, and something in the heart."
Sunday, January 31, 2016 – The Wellesley High School auditorium was packed with enthusiastic A capella and choral lovers this afternoon, and they were not disappointed as they listened to The Boston Saengerfest Men's Chorus, The Wellesley High School Chorus, The Wellesley High School Keynotes, The Boston City Singers Fellas, Sound Investment, and The Yale Whiffenpoofs! Here are some photos of this annual event: