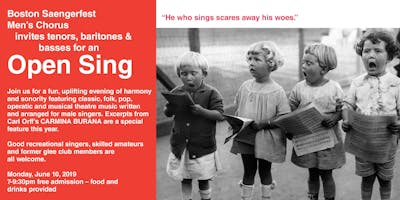 Open Sing! with the Boston Saengerfest Men's Chorus
Monday, June 10, 2019 from 7:00 PM to 9:00 PM (EST)
More Information →
The Boston Saengerfest Men's Chorus invites you to join us for a fun, uplifting evening of harmony and sonority featuring classic, folk, pop, operatic and musical theater music, written and arranged for male singers. Excerpts from Carl Orff's Carmina Burana are a special feature this year. 
Good recreational singers, skilled amateurs and former Glee Club members are all welcome! 
When: Monday, June 10 2019 at 7pm – 9PM
Where: Christ Lutheran Church 113 Union Street • Natick, Massachusetts 01760
Saengerfest invites men to enjoy singing music for 4-part male voices. Saengerfest Music Director, Tom Berryman and Accompanist Julia Carey will lead the singing.
The OPEN SING is offered free of charge to basses, baritones and tenors. Musical scores will be provided for the SING.
Directions: It is very easy to reach us: follow your GPS to 113 Union Street, Natick, MA 
For further information, please contact bsmcmanager@gmail.com.