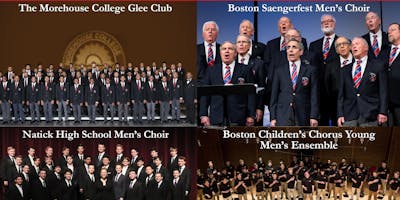 Brother's Sing On!
Saturday, March 16, 2019 from 8:00 PM to 11:00 PM (EST)
More Information →
The Brothers Sing On! 2019 Festival, is hosted by The Boston Saengerfest Men's Chorus. The headliner for the concert this year is the storied Morehouse College Glee Club, founded in 1911. Morehouse College is an all-male, historically black college and university in Atlanta, Georgia, and its stellar glee club has performed internationally, at presidential inaugurations, and throughout the US, all to universal acclaim.
Joining the Morehouse College Glee Club will be the accomplished Natick High School Men's Choir, the vibrant Boston Children's Chorus Young Men's Ensemble, and the Boston Saengerfest Men's Chorus. The concert will culminate with a mass choir of over 150 voices.
Saturday, March 16, 2019 • 8:00 PM, at the Natick High School, Performing Arts Center, 15 West St., Natick, Massachusetts, 01760
GENERAL ADMISSION: $25.00 •  STUDENTS: $15.00, seniors and group purchases (10 or more tickets) $20